SpeedBox 3.0 B.Tuning for Bosch (incl. Gen4)
- Package: BAG, Qty: 1 pcs




PROPERTIES:
Maximum speed: unlimited
Display shows: actual values
Speed limit setting: YES
Activation: SpeedBox App/ WALK function/ - + - +
Compatible with motors (incl. Gen4):
&nbsp Active Line Plus
&nbsp Performance Line
&nbsp Performance Line CX Line
&nbsp Performance Line Speed
&nbsp Cargo Line
Compatible with displays:
&nbsp KIOX
&nbsp INTUVIA
&nbsp NYON
&nbsp PURION
&nbsp COBI
Compatible with:
&nbsp SpeedBox App
Not compatible with:
&nbsp Bosch Smart System
More
Product code: SB3BT_B_1pcs_BAGShipping and Payment
New generation tuning chip with Bluetooth and mobile app for your e-bike. Our most powerful and versatile product.
This new product brings a unique connection of e-bike and mobile phone. The SpeedBox 3.0 B.Tuning chip is a top-notch product perfectly optimized for the most powerful ride and experience. It suppresses the speed limiter so you can enjoy your ride at unlimited speed. Thanks to SpeedBox App mobile application you can monitor and store all the parameters of your trip on the display of your phone in any place, anytime.
How does SpeedBox 3.0 B.Tuning work?
The tuning kit can be activated directly from the mobile application or on your e-bike's display. You will activate SpeedBox 3.0 by activating the WALK assist function shortly, a value of 9.9 km/h (6.2 mph) is displayed and from now on you will be able to ride at a speed of 40 km/h, 50 km/h and even more than 60 km/h.
To deactivate the tuning chip, activate the WALK assist function shortly again. The value of 2.5 km/h (1.6 mph) will appear on your display and the speed limit will reset to 25 km/h. Your e-bike will then work the same as before installation of the chip.
SpeedBox was also designed for e-bikes that do not have a classic control unit with WALK assist function. In this case you can just use the combination of - + - + buttons and SpeedBox will be activated. You can easily deactivate SpeedBox in the same way.
You can set the maximum speed of an electric assistance by changing modes: Turbo - EMTB - Tour - Eco - Tour - EMTB - Turbo. An actual speed limit will be displayed after that. The maximum speed of an electric assistance can be switched by pressing WALK assist function shortly or by turning the rear wheel 360°. The value of 1,5 km/h on the display corresponds with the limit of 15 km/h, 2 km/h corresponds with the limit of 20 km/h, 2,5 corresponds with 25 km/h, 3,0 corresponds with 30 km/h, 9,9 corresponds with 99 km/h etc. The last displayed limit will be saved after 5 seconds of inactivity.
When using SpeedBox 3.0 with Bosch motors of the 4th generation (produced in 2020 or later) it is necessary to leave the bike on after finishing the ride until a value of 0.0 km/h is displayed. During this process the remaining time will be displayed in minutes. Then it is safe to turn off your bike and you can start looking forward to your next trip.
SpeedBox App is an application specially designed for SpeedBox 3.0 B.Tuning, which uses Bluetooth technology to connect your e-bike to your mobile application. After downloading the application and connecting your mobile phone to your e-bike you will see current data and trip parameters displayed on your phone. Individual trips can be stored so that the results can be compared with friends and together they can monitor their performance. So just enjoy the ride and leave checking the parameters for later!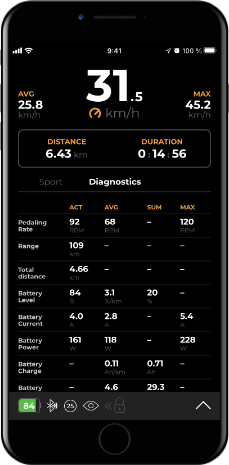 SpeedBox App features:
Tuning control
Speed limit settings
Saving and viewing your trips
Invisible tuning
Motor lock
Motor diagnostics
SpeedBox 3.0 B.Tuning is not limited to working with SpeedBox App. However, it is a great tool that will provide you with a complete overview of your performances.
Download SpeedBox App to your phone just before ordering the SpeedBox 3.0 B.Tuning chip. You can try out our demo version and get to know all the awesome features and, at the same time, make sure that the application is fully functional on your phone. To connect to the SpeedBox B.Tuning chip, your phone needs to be equipped with Bluetooth 4.0 or higher.
Assembly
When connecting the SpeedBox chip to an e-bike you will find connectors colored to make installation very simple. We have prepared detailed instructions and videos to make installation easy for you. Disassembly of our tuning chip is just as easy. If you have any troubles with installation or disassembly, do not hesitate to contact us.
If you are planning to install SpeedBox on a brand-new bike, make sure you ride it for at least 10 km before the chip is activated.
Detailed installation information can be found here.
Warning
Please note that the operation of this type of modified electric bike on public roads may be against the law in some countries. The manufacturer takes no responsibility for damages resulting from the use SpeedBox products. Electric bikes equipped with SpeedBox products are not allowed to be used on public roads, cycling paths and public places. Electric bikes equipped with SpeedBox products can be used exclusively on private property and entirely at one's own risk. The use of SpeedBox may void the warranty of your e-bike.
We strongly recommend using safety features and protective gear to prevent injuries.
If you lose your service password or pin, you can use our service available here.
We do not recommend updating the software of the e-bike.
In case of updating the software of your e-bike, uninstall SpeedBox from the e-bike first, update the software and reinstall SpeedBox.
| | |
| --- | --- |
| Bosch Motor | |
| Bluetooth/ SpeedBox App | YES |